In collaboration with Cowi Gulf A/S Fire Engineering and Arup London, Origin's contracted Senior Fire Safety Engineer was recently engaged in the fire engineering design for the Oman Botanic Gardens Northern and Southern Biomes. The Northern and Southern Biomes are unique and impressive structures built to withstand the extreme climatic conditions of a harsh equatorial desert environment.
The Biomes provide a summer/winter mode climate-controlled protective environment for botanical habitats over a plan area of approximately 14,000 square metres. The Biomes also house exhibition spaces, shops and restaurants, extensive education and research facilities, lecture theatres, libraries, and support services. Occupancy is up to 700 people per Biome at garden levels and up to 1000 people including all other areas.
The Oman Botanic Gardens are destined to be regional and international leader in conservation and will lead the way in innovation and learning.
Significant Challenges
If one imagines a botanical garden covering three football fields, fully enclosed by a specially engineered glass dome, then one will have a sense of the size of the Biomes. Buildings like these present significant fire engineering challenges – without prescriptive solutions.
The desired outcomes of the fire safety design were to ensure that people could escape safely in the event of a fire and to ensure that the structure was appropriately fire-rated. Consideration also had to be given to fire-fighting operations including search and rescue.
The project timelines for the delivery of a fire engineering design were very tight. The design drew on first principles fire engineering to provide an appropriately conservative solution for life safety, property protection and fire emergency response. Computer modelling was used to validate and optimise design options and demonstrate fire safety system redundancy.
Fire Safety Systems
Effective automatic fire sprinkler detection and control could not be fitted into the garden spaces due to the significant height (extending to almost 30 m above FFL) and the profile of the domes. After consideration of a number of options, natural smoke buoyancy in conjunction with environmental management systems were used to provide effective and economical smoke control design.
The structural steel columns were subjected to specific analysis to establish the extent of fire protection required and construction and maintenance costs were able to be reduced.
Achieving effective fire detection in these large buildings was a particular challenge in the presence of stratification (a layer of hot air caused by solar heating of the domes). Layered and zoned intelligent OSID beam detection was specified to provide the earliest response with a high degree of fault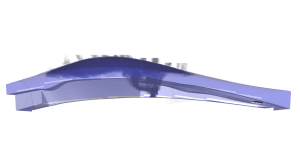 tolerance.
A key consideration in the development of fire safety systems for the Biomes was ensuring adequate redundancy. The design is based on a concept of independent system zones so that complete failure of any zone should not compromise egress.
Negotiation and Timely Collaboration
The fire engineering design included a comprehensive series of fire scenarios (established through the Fire Engineering Brief with stakeholders). These included consideration of extreme ambient temperature and wind events to ensure resilience.
The design criteria were bench-marked against US Codes and EU Standards to the satisfaction of the client, architect, engineers from the other disciplines and the jurisdictional authorities. The successful outcome required a high level of negotiation, timely collaboration and documentation from, and among, a significant number of suppliers and stakeholders.
The design for the Oman Botanic Gardens Northern and Southern Biomes presented a unique complex design challenge. The challenge was met with a robust and resilient fire safety design that was additionally economical and timely.