Creating a fire safety solution through use of sprinkler systems in newly built Auckland luxury homes.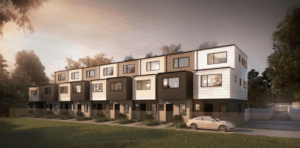 With a land area of 1184m², the vacated site at 46 Te Kanawa Crescent, Henderson could readily accommodate the nine brand new townhouses envisaged. In addition, a 50 metre long right of way to the site meant any new housing on the site would enjoy peace, seclusion and privacy, well away from the main road.
The nine brand new townhouses, designed by OZAC Architects, were described by the selling agents as luxury homes. Four bedrooms, two bathrooms, across three levels. Well appointed and sited to maximise backyard space and ease of access to the front door of each townhouse. Each new home incorporates quality appliances and a designer kitchen flowing into large dining and living spaces, out onto private, fully fenced back gardens. Excellent value, perfect for first home buyers, professional couples, young families and or/investors.
However, the long driveway was the real challenge for Origin Fire whose work on this project fell into two main parts. The first part included producing the Fire Report which assured, in the advent of fire, safe external egress for all occupants out of the homes and onto a clear pathway leading to the main right of way. This first part of Origin's work also included fire rating the construction to ensure the selection of quality construction materials that would perform as well as possible if a fire was to occur.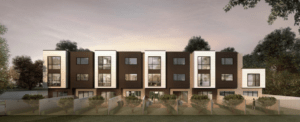 The second part of the work was addressing the fire safety challenge inherent in the super long right of way, too narrow for a fire truck to drive up to the townhouses and too long for their fire hoses to reach all parts of the townhouses to control a fire.
Origin's solution to overcome the shortcomings of a long narrow driveway preventing fire service access was to provide a sprinkler system for the townhouses. This allows a fire to be automatically controlled by the sprinkler system without requiring early fire service intervention. On arrival, the fire service has the option of pumping more water into the sprinkler system or laying additional hose lengths to reach the building from the road.
The sprinkler system installed provides superior life safety and property protection compared to a typical townhouse development. It was also installed in a unobtrusive way and did not affect the aesthetics of the internal layout.