Putting a whole new spin on the concept of Maldivian luxury and exclusivity, the region's first-ever underwater bedroom, the Muraka (Coral), serenely located 5 metres underwater on the Conrad Maldives Rangali Island resort, is ready to welcome guests.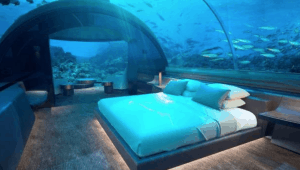 The Muraka, encased in glassy tunnels and surrounded by tropical fish, promises a unique experience that is not available anywhere else in the world. Guests who book the villa get flown to their own private seaplane jetty and are picked up in a speedboat that's theirs to use for the rest of their stay. The suite itself is set apart from the Conrad Resort's beach villas and over-water bungalows. Four dedicated butlers live in a nearby structure to facilitate round-the-clock service, and everything—from a chef to cook your meals to a set of jet skis and an on-call fitness trainer—is included in the exceptional price tag.
The Conrad Maldives Rangali Island already had experience in this undersea architectural arena. Ithaa is the resort's famous underwater restaurant, where diners enjoy six-course feasts below a see-through canopy offering 180-degree panoramic views of the vibrant coral gardens surrounding it. However, the scope of the project this time was huge and the logistics complex.
Architect Ahmed Saleem says that the lighting and design scheme for Muraka needed to be such that there wouldn't be reflection off the acrylic walls. "We couldn't use bright colours or variations of white, as that would reflect too much and impede the undersea experience," he explained.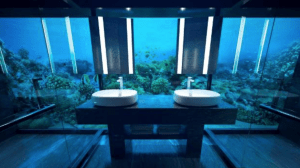 The architect had to work in tandem with marine biologists to ensure that the villa had no impact on the surrounding corals for which it's named. Then the 600-ton structure had to be built on land in Singapore, hoisted onto a crane, and transported in a specialized ship that could moor near the reef and submerge the suite in the ocean.
Chief engineer on Muraka was Mike Murphy (managing director of MJ Murphy) who was joined again on the Muraka project by another kiwi, Lance Jimmieson (managing director of Jackson Engineering Advisers) who had also played a vital role in the creation of the underwater dining experience for the luxury Maldives resort.  Creating the reality and the feeling of absolute safety was a vital component of the engineering design and, as Lance Jimmieson says, "there is no research or information on 'how to' on a project like this". Indeed there is no text book that shows how to make sleeping with fishes a truly serene experience.
Origin Fire had also worked on the underwater restaurant Hurawalhi, designing the fire safety, fire protection and emergency lighting systems. This time on the Muraka project, team lead for Origin was fire engineer Michael James, with Wayne Joseph on fire protection and Clive Revie on emergency lighting.
Hear more about the once-in-a-life project from architect Ahmed Saleem, engineer Mike Murphy, and interior designer Yuji Yamasaki here.