The answer is plenty if you're considering a job in the fire safety and engineering industry.
Attendees at the Fire Engineers Careers session at the FireNZ 2017 on the afternoon of day one of the Conference heard from a lineup of experienced professionals from across fire safety and engineering. The presenters spoke for just ten minutes each on the wealth of diverse opportunities in the industry. From personal and professional experience, they talked about what jobs involved, the responsibilities and reporting lines, expectations and outcomes and the kind of training required at different entry levels.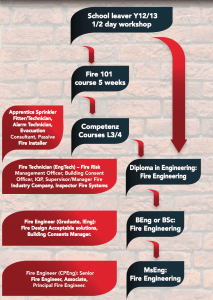 Sarah Jeffs, Vocational Pathways Broker at Waitakere College in West Auckland, interrupted her holiday to attend the session and found herself very quickly realising that there was huge scope in this sector for the students she worked with. Sarah believes the industry needs to speak to education and that this was a great forum for education to be at. "I found myself thinking about what we study? how might this fit? Could this work for my students?"
The Careers seminar was not simply presenting jobs to do with systems testing, consenting, engineers, designing, inspecting, installing and strategising evacuation. It was approaching the industry from a career planning point of view which offers so much opportunity and ongoing challenge and change. Those presenting described an industry where one could keep on training and learning, where there were diverse pathways and choices to make, where collegiality and collaboration was important regardless of the role, and where the chances of it becoming a family affair – "dad was in fire safety too" – also seemed quite high.
Michael James says a priority for next year will be changing the format, timing and rollout of industry career information for prospective recruits, from school leavers to university post graduates. "It was disappointing that we did not attract more attendees to this session because great speakers highlighted some compelling career opportunities in our industry. The onus is on us to get the message out that a career in fire safety, fire protection or fire engineering is both very possible and rewarding. To this end we'll be looking at college and university targeted road shows in 2018 to ensure we get to the right people at the right time for timely decision-making."