Fire engineering for a warehouse that became a beautiful barn – a special space for a private car collection.
There's a special rental and storage space for a superb private car collection at Silverdale's Highgate Business Park that was conceived as a warehouse and emerged as a sophisticated, modern barn with timber clad walls and an iron roof.
The architecturally designed warehouse is reminiscent of the kind of American barn in which car collectors store their store classic cars. In the States particularly High Barn Storage Buildings are regarded as perfect garage styling for storing classic cars, in fact car enthusiasts can buy kit set barns. At Silverdale however the bespoke barn is a triumph of architectural design and brilliant engineering.
Inside there are highly polished concrete floors, bespoke cedar textures and spaces, and glorious fine steel roof trusses while the outside of this huge barn features cedar cladding on pre-cast concrete walls, timber shuttering and genuine cedar gables at either end. The ground floor measures 1060 square metres, there's a mezzanine office space of 172 square metres, and it comes complete with a place for observation and reflection over a quiet tea or coffee and an annexed workshop.
Sited on an elevated space at one end of the business park, there's also an outdoor pergola protected place where visitors can enjoy wonderful views over the surrounding wetlands.
The owner of the car collection says he wanted a modern warehouse to store his cars, along with a good workshop and great access. "What I got", he says "is a New Zealand take on an American barn. What I love about the garage is its accessibility and the overall feel of the space."
Van Veenendaal Rosnell Langley were the architects. Architect David Hunt feels privileged that he came to work on such a unique project. "It was amazing project to work on and we have been able to incorporate beautiful textures throughout the building, adding intrigue and interest throughout its interiors and across its exteriors. It was also a truly collaborative project, the outcome of which is a testimony to close collaboration between architects, builders and engineers.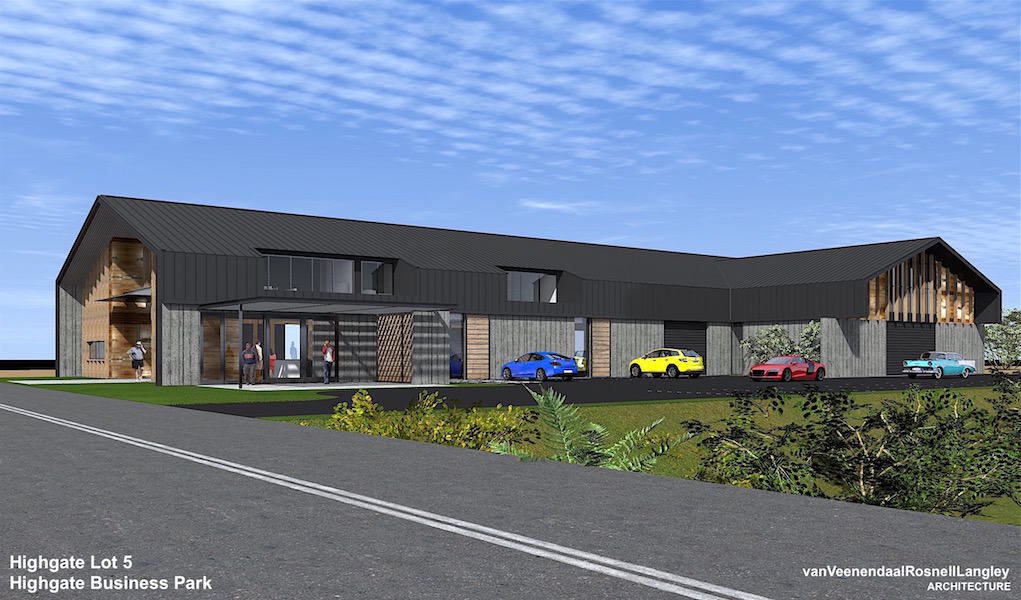 The skilled craftsmanship of the builders became evident throughout the project. David Hunt says, "the fine steel roof trusses accentuating the contemporary, elegant barn-style feel was just one example of the beautiful build elements of interest from Thorne Dwyer Structures."
The Origin team on the project included senior fire safety technician Christine Cann, emergency lighting engineer Clive Revie and fire protection engineer, Wayne Joseph. Christine observes that from a fire engineering perspective there needed to be clarity around the intended use of the building from the outset.
"In addition to the storage of a private car collection there would be people working in the space, there would be visitors, and there would be other gatherings likely to occur once the building was finished and storage layout complete. In the event of a fire there needed to be efficient means of escape but nothing ugly or obvious about the door furniture, or mechanisms involved in egress. In this space aesthetics were extremely important, hence door latches rather than panic bars. And, while they were not required compliance-wise, the owner asked that we install an automatic sprinkler system to protect the precious cargo and the office space. Climate control would additionally protect the American cars from dust and salt air damage."
The Origin team enjoyed working on this unique project and were extremely pleased with the final outcome, acknowledging the owner for his vision and the design and construction teams for bringing it to life.