Hyundai Marine Sports Centre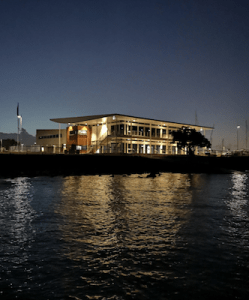 The walls of the old Royal Akarana Yacht Club building came down in April 2017 and the first concrete pour for the floor of the new building took place in August of the same year. Work proceeded at pace through 2018 and by August the building was ready to offer Hon Grant Robertson (Minister of Finance and Sport and Recreation), along with Auckland Councillor Desley Simpson, Orākei Local Board's Kit Parkinson and Michelle Kernahan (Chief Executive of Fletcher Construction), a walk through the site. Just weeks later, a blessing by Ngāti Whātua of Orākei took place at the new Hyundai Marine Sports Centre.
The Hyundai Marine Sports Centre, designed by Pacific Environment Architects and built by Fletcher Construction has been constructed as a true multi-user facility. With more than 800m2 of training & educational areas and event spaces capable of hosting more than 300 people, the Centre remains the home of the historic Royal Akarana Yacht Club as well as other sports clubs. The Hyundai Marine Sports Centre, built on The Landing in Okahu Bay, will be the hub of the local community, providing a wide range of marine based activities.
Origin's Dr Alex Zhu was assigned to the task of ensuring the fire engineering solution for the Centre met all requirements.
"The building has a very high ceiling and an impressive atrium connecting the ground and first levels. The ground level houses the boat store and a function space, and the top floor, the administration area and another function space. The building is open plan, and the design delivers a multi – use building for events, seminars and workshops, with open interconnecting spaces and beautiful views across the harbour. There is also an in-house catering facility," explains Alex.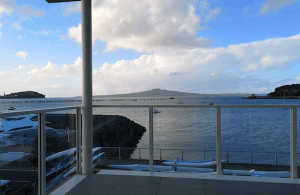 Origin's fire engineering solution needed to address the open nature of the building which allowed smoke to flow between the two levels of the building, and a solution for the boat store that did not rely on sprinkler protection.
This was addressed by installing a sprinkler system to control the fire and providing sufficient exits so that people could leave the building before the smoke became life threatening. The boat store required the addition of smoke vents to outside to give occupants sufficient time to escape. During construction Origin Fire also carried out inspections and provided advice on fire stopping of penetrations through the fire rated floors and walls.
Alex says it was a great project to work on and there has been enormous satisfaction for the team being part of a facility that will contribute so much to both local and wider sporting communities.