Pinesong: Passive Fire planning from the outset
Pinesong is a Metlifecare Retirement Village nestled in glorious gardens and native bush in Auckland's Green Bay. Featuring spacious, up-market apartments and townhouses, Pinesong offers its residents wonderful views, breath taking outlooks and outstanding facilities.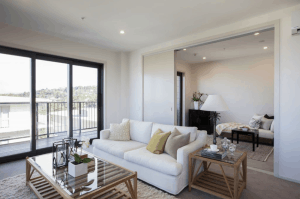 When Metlifecare engaged architects Peddle Thorp to substantially redevelop an existing three level plus basement building containing 19 units in the Village, it was decided to strip the existing building back to its bare structure, in fact a full demolition, and create an exciting new seven-storey offering at the Metlifecare Village, Pinesong Manukau Apartments.
Peddle Thorp presents the scope and extent of the project on its own website and it was a privilege for Origin to be also involved in this project from the outset, implementing the fire engineering and passive fire protection designs. In fact, what being involved from the initial design phase meant was that we could design and implement our approach to passive fire planning, designing solutions at the design stage and then carrying out the inspections in accordance with design throughout construction. This was one of Origin's first opportunities to proof test our passive fire protection design and construction monitoring process.
Our approach to passive fire protection seeks to ensure a smooth consenting process and to generate realistic pricing during the tender stage. Experiencing any down time during construction is virtually eliminated using this four step approach: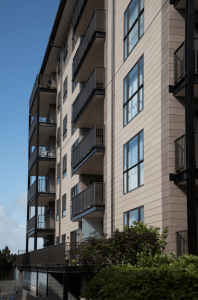 Concept / Preliminary Design
We start by presenting the passive fire protection design philosophy to help inform or guide other design consultants. This is a key time to design out as much passive fire safety as possible, especially the smart location of services before building designs are cast in stone.
Developed Design
Next, we carry out preliminary selections of passive fire protection systems based on the building construction materials and building services designs.
Detailed Design
When we document the locations of passive fire penetrations, we also document our solutions and the manufacturers' installation requirements along with the test report justifying the system selections and any engineering judgements.
Construction Monitoring
Then, during construction, we regularly monitor the construction and installation process against the approved fire protection compliance installation details.
Origin's managing director, Michael James, says NZ Strong did an amazing build job, clinching a sound and painless sign-off. Michael says they learned lots of useful lessons while on this project and these are being incorporated into their approach as they evolve and enhance their approach to passive fire safety protection.
"Overall, the project went smoothly," he says, "and because all the passive fire components had been designed up front, there was no waiting around for necessary work to be included and completed. This project has served as a benchmark for ongoing work. Design, specification and inspection for compliance – making this one seamless process."
Photo credits: NZ Strong