Origin's Senior Fire Safety Technician, Christine Cann, is primarily responsible for delivering fire safety assurance for Auckland's multi-faceted design and construction project management company, Contract Design & Management Ltd (CDM), and CDM's client, Barfoot & Thompson; New Zealand's largest privately owned, non-franchised real estate company.
CDM operates across a wide range of construction disciplines. Origin works with CDM advising on fire safety design and construction monitoring, contributing to the high standards of professional accountability that CDM expects of all its partners and contractors.
Since 2013 Origin has worked with CDM on 28 Barfoot & Thompson owned buildings that house Barfoot & Thompson offices and people, as well as associates and other tenants. CDM is involved in building refurbishment for Barfoot & Thompson who in turn have made use of CDM's specialist skills in heritage buildings.
Origin is required to inspect the building prior to the commencement of the design to identify fire safety and compliance issues early on so they can be incorporated in the design. They then work closely with the design team to ensure all required upgrade work is incorporated in the design team's documents. Once construction commences Christine stays involved with the project, carrying out inspections to ensure all the work is correctly carried out.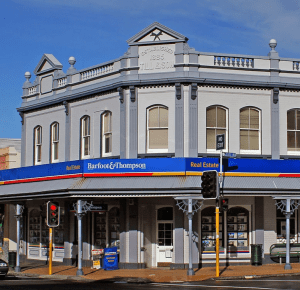 Origin's managing director Michael James says, "I'm very impressed with Barfoot & Thompson's commitment to upgrading the fire safety features of their buildings to the latest standards."
Christine says, "we work well with CDM, more specifically with Director and Project Manager Hayden Pirie, who is our main contact. Hayden trusts that we will complete our work efficiently and effectively. He respects our expertise and he knows we operate to the same standards of professionalism and accountability that he does."
"Our fantastic team of professional consultants, contractors and sub-contractors is how we continue to deliver exceptional commercial fit-outs for our clients," says Hayden. "We rely on the experience of Christine and her colleagues to provide complete and comprehensive pre-commencement explanations, project designs and reports that ensure we no delays during the construction process and we get prompt sign off by governmental departments for each project. Having professionals such as Origin Fire working with us ensures the seamless delivery of projects to our clients, and we are happy to endorse Origin Fire for other clients too."
Origin Fire thanks: