The New Zealand Chinese Building Industry Association (NZCBIA) 2017 Annual Conference and its accompanying New Zealand International Property and Building Expo was held on 21 and 22 July at the Vodafone Events Centre. Origin Fire was one of the exhibitors at the huge two-day event designed to bridge cultural barriers between Chinese and New Zealand developers in the construction industry.
The Expo was designed to both connect Kiwi suppliers with Chinese builders and Kiwi industry professionals to Chinese clientele. Frank Xu, president of the Chinese New Zealand Building Industry Association says, "the organisations that makeup NZCBIA have a unique set of industry skills as well as networks of investors and suppliers that are not always accessible to New Zealand businesses. We want to uplift the quality and the reputation of the Kiwi-Chinese builders and we want to help our Kiwi counterparts gain access to a wider range of resources."
The Expo was certainly a forum where attendees could explore what's required to encourage innovation and deliver creative solutions in order to make their mark at home and abroad. Over the two days attendees engaged with suppliers, contractors, developers and consultants in the NZ Chinese community and from China, proving that the Expo was an exceptionally cost-efficient way to make valuable contacts and discover the latest products and services on offer.
Michael James said the conference and expo highlighted a thirst for knowledge from Chinese developers, architects, builders and suppliers about fire safety and how to get it right.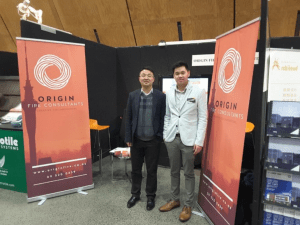 "There is a lack of information at the moment for people who do not have English as a first language and there is a great opportunity to enhance the quality of building in New Zealand by providing bilingual information."
Origin fire engineer Jen Tang put together a superb programme on fire safety design to support Origin Fire's presence at the Expo, while fellow fire engineer Dr Alex Zhu, also hosting the Origin booth saw his first article, co-authored with Michael James, on passive fire protection in print.
Media moment for passive fire protection
The article co-authored by Origin's Michael James and Dr Alex Zhu on successful passive fire
protection has appeared in the New Zealand Chinese Building Industry Association journal
b+d (Building + Design + Development).
See the article for the Association's journal here.