Repairs began on one of Auckland's largest leaky apartment complexes – The Pulse – a 65 unit Ponsonby block at 80 Richmond Rd on April 2015, a full decade after evidence emerged that the cladding required urgent attention as well as attention to persistent leaks posed by severe problems due to the roof design.
Origin's initial brief was to prepare a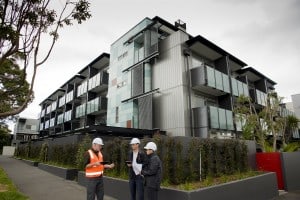 fire safety design for the re-clad work concentrating on the fire rating requirements for the exterior walls and roof of the building. Once construction started however the scope of Origin's work extended to designing solutions for the fire rating and fire protection systems within the Pulse apartments.
The crisis point came when it became apparent that the repair approaches being considered for the internal fire rating would likely exceed the cost of demolishing and rebuilding the building from scratch.
The solution to hug time, cost and logistics challenges was the innovative risk-based approach recently presented by Ron Green, Michael James and Ed Claridge at the Fire NZ Conference.