Balancing fire safety objectives with KiwiBuild drive for high quality, low cost homes
Origin's managing director and President of the Society Fire Protection Engineers (NZ Chapter), Michael James, presented at the New Zealand Chinese Building Industry Association Summit, an exceptionally well-attended event on 27 July, followed by trade and public days on 28 and 29 July. A real highlight on the Kiwi Chinese building community's calendar, the Summit hosts industry experts and bilateral government officials. The Expo itself is open to the trade and general public. For the 10,000 plus visitors, it's an opportunity to network, learn and engage.
This year's theme was Innovation and Entrepreneurship. The Summit was sub-themed as the KiwiBuild Summit: From Ideas to Opportunities with Modular/Precast Design, BIM and KiwiBuild being the focus. The Summit provided a forum for industry experts, professionals, government, and industry associations to discuss and debate the challenges and opportunities of the KiwiBuild scheme and the KiwiBuild drive for high quality, low cost homes.
While doubt is often expressed that the building industry can house people affordably and fund infrastructure but there is still optimism within the NZCBIA that it can happen, with the support of the NZCBIA network working closely with the government to ensure mutually beneficial action on the delivery of high quality, low cost homes.
Michael says, "it was a great opportunity to speak at the Summit and I talked about balancing fire safety and quality with KiwiBuild's low cost commitment. My key points were:
Ensure the early engagement of your fire engineer to locate the houses on the site, consult on the layout of the interiors and help choose materials that minimise cost and maximise safety.

Communicate with your fire engineering team throughout the design process.

Ensure your fire engineering team provides documentation that the construction team can build, including product and installation specifications

Make sure you build to the plans provided, agreed to and signed off on. Build to the designs provided."
Michael's presentation focused on consultation and collaboration from the start of the project, beginning with concepts, through to clearly communicated directions and sound documentation to underpin the construction. This includes bi-lingual communication and documentation where required.
"In my presentation I wanted to impress upon attendees that the cost of mistakes or delays during construction far outweigh the costs of carrying out a proper design during the design stage. Something that costs $10 when it's documented during the design process costs $100 to add during building consent and $1,000 to resolve during construction," says Michael.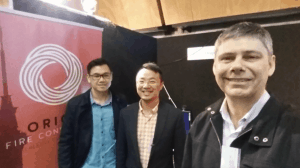 "The NZCBIA research suggests that 30% of building construction in Auckland has a Chinese developer, financier or builder so it was worthwhile to show our support for an often-undervalued sector of the construction industry."
Michael notes that many recent immigrants to New Zealand along with the Chinese struggle with language and the complexity of regulations surrounding building construction.  "It was good to see Auckland Council participating with bi-lingual information. I also used bilingual captions in my presentation and one enthusiastic summit attendee awarded me 10 out of 10 in appreciation."
Origin's Dr Alex Zhu who also attended the Summit and Expo with colleague Jen Tang, said "the vision of the NZCBIA is to raise building standards in New Zealand by providing leadership to the Chinese segment of the construction industry. This complements Origin's drive for improved quality in design and construction. Michael's presentation was not just about presenting Origin Fire but also about providing cost effective ideas to balance construction cost with quality and safety. We also provided a booklet to Expo attendees with our recent fire safety articles translated into Chinese which was also greatly appreciated because there is a lack of Chinese information in this area."
See Michael's presentation here.
About NZCBIA 
New Zealand Chinese Building Industry Association (NZCBIA) is a non-profit membership group with the vision of uplifting New Zealand building industry standards by providing a
useful platform for Kiwi companies, local ethnic Chinese businesses along with companies from China to work together for New Zealand's thriving property development and building industry.