Designed by the renowned Gel Architects group and valued at $13million, On Point apartments is a new-build project located in Point Chevalier, Auckland. The thoughtfully designed building encompasses 32 apartments with everything needed for a contemporary central Auckland lifestyle.
Origin Fire project managed the fire engineering across all three services including fire engineering, fire protection and passive fire protection. Due to the complexities and challenges of the design, a number of Origin staff were brought in. The team was led by Origin's Senior Fire Engineer Sajeesh Nair, alongside Fire Engineer Christine Cann, Wayne Joseph overseeing Fire Protection, and Diane Chen and Vincent Selvakumar managing Passive Fire.
Utilising Origin Fire
The team were tasked with designing a complex fire engineering system, using fire protection, passive fire, and fire engineering to achieve the requirements of New Zealand Building Code.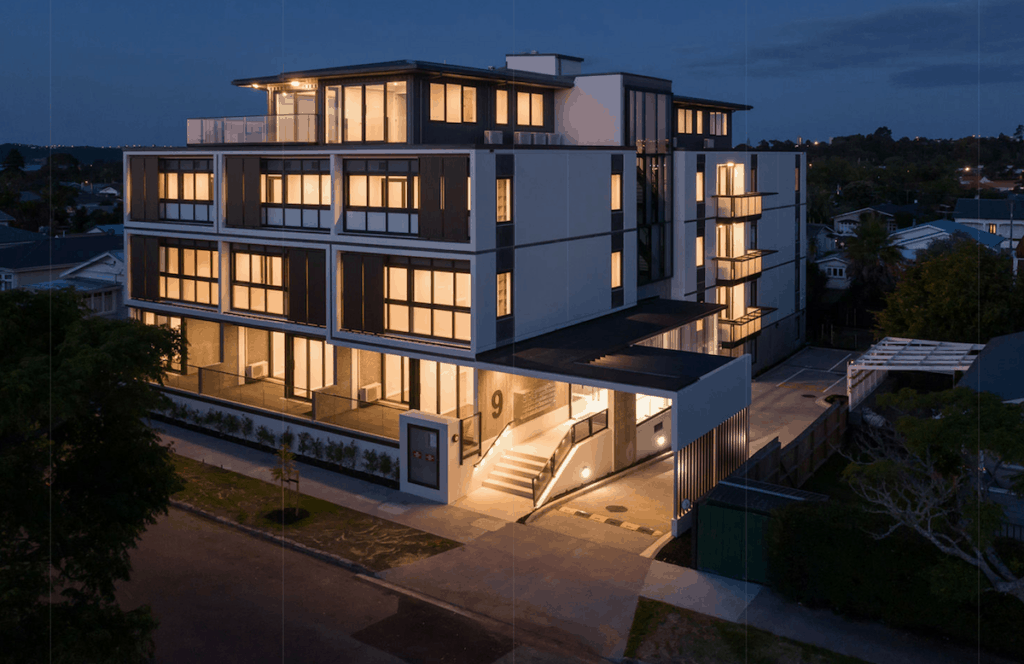 Having a large team from Origin working together meant a collaborative approach was able to be taken on the design of the fire engineering system. All members coordinated on the project, providing each sector with the right information in a timely manner, which allowed the team to keep to their deadlines. The combination of each member's expertise and experience meant that the best outcome could be achieved for the client.
One organisation that is able to complete all aspects of fire engineering not only saves time, it makes it easy to clarify queries amongst the design team. From a client perspective, design co-ordination happens within the firm. It is cost effective, and the client does not need to co-ordinate between the different disciplines. It also makes it easier for the client to have a single point of contact within the fire engineering team.
The build
The team utilised their diverse design and inspection experience, coupled with the approved building consent documentation to achieve the required life safety and property protection outcome.
A unique aspect to the build was that only the basement had fire sprinklers fitted. The remainder of the building is reliant on the fire alarm system for early warning and the fire rated walls and floors to allow people to escape safely. The increased the importance of getting the passive fire protection right.
Working collaboratively to overcome challenges
Origin Fire met with the project manager and builders before the construction commenced to ensure that all teams were in concurrence. Coordinating with all stakeholders gave the Origin team confidence that the build would progress smoothly. Origin highlighted minor installation issues early in the job, which meant the result was an exceptionally high standard of workmanship throughout the build. Regular meetings and site visits were kept up throughout the project to ensure all construction disciplines followed the fire engineering design correctly.
The design also required solutions for non-standard building configurations, which meant the Origin Fire team not only designed bespoke solutions, but also collaborated with manufacturers and the architect to ascertain effective solutions.
Images credit: Gel Architects